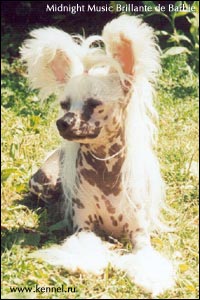 Midnight Music
BRILLANTE DE BARBIE

17.04.2001, RKF 0001107



Titles and Awards: Russian Champion, Young Russian Champion, 5 x BEST JUNIOR.




Owner: Irina Ketova




Sire: Strong Stael Jansen

, RKF 1004844 (Russian, Moldova Champion), descendant of famous American Champions.

Dam: Vellar Plus Allondra

, RKF 0000248 (International Champion, Russian, Byelorussian, Ukrainian Champion, Club Champion), granddaughter of

Wenlo's Kukai Kumquat

(USA, German, VDH, Austrian and Luxembourg Champion).


Pedigree
Underlined dognames are links to corresponding pages! Do not hesitate to click through.


STRONG STAEL JANSEN
ROYAL LOOK DOTTS WILL DO
VANDALIA'S RHEINHOLT
CHATTY'S EAST JOSSLYNN
AIDALAIZ BIMKA (PUFF)
MOONSWIFT STORM WARRIOR
ALMIRA VELLAR
VELLAR PLJUS ALLONDRA
BLOOMSBURY AVOCADO
WENLO'S KUKAI KIMQUAT
WENLO'S XANADU
VELLAR A KAPRIZEL
HILL'S DU D'OMAINE DES PERLES NOIRES
ARJENS VELLAR
The Judge's View
"Pure-bred, well-grown, good bones and format. Pure-bred head, wide and deep chest. Straight back. Quarters correct. Good appearance.", A. Burykin (Russia), FCI-expert.

"Teeth correct. Pure-bred, good sized, good clothed. Slightly heavyish ears. Healthy skin. Free movements. Appears with pleasure."

"Teeth correct. Pure-bred, compact body, firm back, good chest, free movements.", N. Kashirin (Russia), FCI-expert.
Participation at Shows
Dog Show

Class

Judge

Place

Title

ANKOR Elita 2002

junior

V1

CW, BEST JUNIOR

MOOK Olimp 2002

junior

N. Kashirin

V1

CW, BEST JUNIOR

Kynology 2002

junior

N. Kashirin

V1

CW, BEST JUNIOR

ANKOR in memory of Mazover 2002 monobreed

junior

Y. Gavrilova

V1

CW, BEST JUNIOR

ANKOR in memory of Mazover 2002

junior

A. Burykin

V1

CW, BEST JUNIOR

5th National CCD Show 2002

junior

N. Karpysheva

V3

WORLD DOG SHOW AMSTERDAM 2002,
CACIB-FCI

junior

V
Photoalbum: