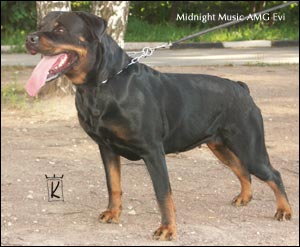 Midnight Music AMG EVI

30.03.2001, RKF 1205262
HD +/-, OKD 1, ZKS 1



Titles and Awards: Russian Champion, ROLS Champion, Junior Russian Champion, Club Champion candidate


Owner: Irina Ketova (ADRK)
Ïîìåòû: SH-litter



Sire: Arko von der Burgbleiche

, 100888, IPO-I, HD-frei, grandson of the famous

Irk vom Obergrombacher Schloss

, 072745 (HD +/-, SCHH-3, AD, BH, gek.b.EzA) - offspring of well-known

Hassan vom Königsgarten

, 056895 (Club Champion 85, HD-frei, SCHH-3, AD). On the mother's side grandson of the famous

Don vom Schwaiger Wappen

, 070669 (HD +/-, SCHH-3, AD, IPO-3) with a significant part of bloods from famous Rottweiler kennel Schwaiger Wappen.

Dam: Midnight Music Wella

, RKF 0086353, daughter of

Dwigt'Evi von Gambrinus

(World Vice-Champion 1998 in Helsinki, Russian Champion, RKF Champion, Slovakian, Hungarian and Yugoslavian Winner, 3xBOB; winner and prizewinner at a number of shows in Germany; IPO-1, T-1) with such legendary dogs in the pedigree like

Djerbo van 'T Straotje

(International Champion, Dutch, VDH, Belgian, Luxemburg Champion, Club Champion, European Junior Champion, HD-frei, BH, IPO-3) and

Benno von der Schwarzen Heide

(World, European, International Champion, Club Champion, IPO-3, SCHH-3).


Pedigree
Underlined dognames are links to corresponding pages! Do not hesitate to click through.


The Judge's View



"Bite normal, teeth complete. Pure-bred well formed wide skull head, proportionally built body, medium sized ears. Sufficiently sharp stop, voluminous muzzle, dark, well fitted eyes. Neck of medium length. Good developed chest, moderate shoulder angle, good forechest, well placed forequarters, hindquarters well angulated. Free movement..."

, Tatiana Burdina, ýêñïåðò FCI, breed expert.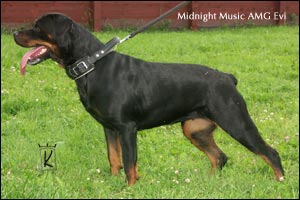 "Teeth complete. Medium size substantial. Sufficiently strong bones. Pure-bred head with good marked sharp stop. Dark eyes, ears carried correct. Neck of good length. Good expressed withers. Correct chest depth and width. Quarters well angulated. Wide thighs, good muscles, good hair. Free movement..."
, Pavel Lavrinovitch, ýêñïåðò FCI, breed expert.
"Teeth complete. Pure-bred, good type, good developed. Feminine, well formed bitch. Pure-bred head with good proportions. Sufficiently entire back line. Good chest, quarters well angulated. Root hair, clear markings. Free movement. Communicative, good conduct in the ring..."
, Olga Nagaeva, ýêñïåðò FCI, breed expert.
Participation at Shows
| | | | | |
| --- | --- | --- | --- | --- |
| Dog Show | Class | Judge | Place | Title |
| ANKOR Elita 2002 | junior | A. Nikitin | V2 | R.CW |
| Kynology 2002 | junior | M. Polivanov | V1 | CW, BEST JUNIOR |
| ANKOR in memory of Mazover 2002 | junior | A. Burykin | V1 | CW, BEST JUNIOR |
| Delta-Pal 2002 | junior | | V2 | R.CW |
| 5th Rottweiler Championship 2002               | junior | H. Freiburg - ADRK | SG3 | |
| Smolensk 2002 monobreed | junior | T. Burdina | SG1 | CW, BEST JUNIOR |
| RUSSIA 2002, CACIB-FCI | intermedia | P. Lavrinovitch | V2 | R.CW, R.CAC |
| Khimki 2002 monobreed | junior | O. Nagaeva | V4 | |
| MOOK Olimp 2002 monobreed | junior | V. Kharitonov | V2 | R.CW |
| Arta Winter, HILL'S CUP 2002 | intermedia | A. Thovar | V2 | R.CW, R.CAC |
| Delta-Pal 2003, interregion. | open | E. Peper | V1 | CW, R.CAC, CC ROLS |
| Lider 19.04.2003 | open | M. Polivanov | V3 | |
| LIDER 2003 | open | E. Kupljauskas | V3 | |
| Great Volga 2003, monobreed., Kazan | open | P. Lavrinovitch | V2 | R.CW, CC |
| Pushkino 2003 | open | G. Grinko | V1 | CW, CAC, ROLS CHAMPION |
| Kler-Plus 2003, region. | open | L. Sokolova | V1 | CW, CAC, BOS |
| Lider 2003, region. | open | G. Sipjagin | V1 | CW, R.CAC |