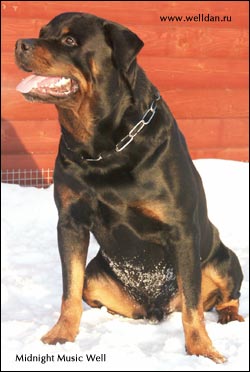 Midnight Music WELL

24.12.1998, RKF 0086350
HD-frei, IPO-1, T-1, KK-1

Owner: Irina Ketova (ADRK member)



Titles and Awards: Interchampion, Club Champion, Grand Champion, Russian Champion (at 20 months), Byelorussian Champion (at 15 Months - ýêñïåðò FCI Carla Molinari, breed expert), RKF, RFOS, ROLS, ANKOR Champion, Winner "Russia 2004", placing at the World Dog Show 2002 in Amsterdam (4th place in working class - ýêñïåðò FCI, E. Bons-De-Wever), placing at the European Dog Show 2000 in Poznan (3rd place in intermedia - ýêñïåðò FCI, Jan Gajevski, breed expert), Club Junior Champion 1999 (ex-Supervisory Judge of the ADRK, Helmut Freiburg), Junior Champion "Eurasia 2000" (ýêñïåðò FCI, Kari Jarvinen), prizewinner "Russia 2000", Class Winner "Eurasia 2003", Class Winner at "Baltic Winner 2000" (ýêñïåðò FCI, Kirsti Louhi), 4õCACIB, 9õR.CACIB, 37õCW, 11õR.CW, 29õCAC, 5õR.CAC,11õBOS, 7õBOB, HD-frei, IPO-1, T-1, gekört bis EzA.



Sire: Rottriver's Midnight Music

(prizewinner at Scandinavian Shows 1996-1997), son of the famous

Flatbakkens Herman Quistberg

(Norwegian Champion, Nordic Winner 91-93-94), grandson of the legendary

Rottriver's Gaston

(European Champion, Multi Champion, Norwegian, Swedish Champion, Nordic Winner 95-96, Svensk Winner 93-94-97-98, winner at numerous shows in Europe).

Dam: Dwight'Evi von Gambrinus

, daughter of

Djerbo van 'T Straotje

(International Champion, Dutch, VDH, Belgian, Luxemburg Champion, Club Champion, European Junior Champion, HD-frei, BH, IPO-3), continuation of the line of

Iwan vom Fusse der Eifel

(International Champion, European and Club Champion, SCHH-3), granddaughter of the legendary

Benno von der Schwarzen Heide

(World, European, International Champion, Club Champion, IPO-3, SCHH-3), comes from the famous Rottweiler kennel "Schwaiger Wappen" and passes on ideal working abilities to her descendants.

Evi

is World Vice-Champion 1998 (Helsinki), Russian Champion, RKF Champion, Slovakian, Hungarian and Yugoslavian Winner, 3 x BOB; winner and prizewinner at a number of shows in Germany; IPO-1, T-1.

Pedigree

Underlined dognames are links to corresponding pages! Do not hesitate to click through.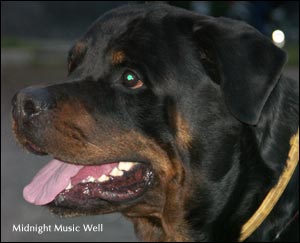 The Judge's View
"Good size, excellent massive head, good pronounced eyes, wonderful body, excellent lines, jerky movements, good coat, rich pigmentation.", Hassi Assenmacher (Germany), ýêñïåðò FCI.

"Correct size, very good bone structure, very good head with powerful foreface, dark brown eyes, well-developed chest, firm paws, good, straight back, very good movement...", Helmut Freiburg (Germany/ADRK), breed expert.

"Pure-bred dog, pure-bred head, good back, good limbs, good color, good movement...", H. Jurek (Poland), ýêñïåðò FCI, breed expert.

"Pure-bred dog, with good bone structure, expressive head, voluminous mouth and good angulations, very good movement...", Elena Jerusalimskaja (Russia), ýêñïåðò FCI.

"Very good type, masculine head, correct angulations, excellent withers, well-rounded ribcage, good back...", Carla Molinari (Portugal), ýêñïåðò FCI, breed expert.

"A dog that, even before it was 2 years old, successfully passed the IPO Program. Training continues with good prospects of taking part in competitions in this type of training...", Valeri Kolesnikov (Russia), IPO expert.

"Very good type, very good bones, good depth of chest, excellent back, regular movement, excellent temperament...", A. Tomasen (Sweden), ýêñïåðò FCI.

"Pure-bred, firm, uniform, without any looseness, extremely well-proportioned, excellent head, steady, wide movements...", Karpyscheva (Russia), ýêñïåðò FCI.

"Teeth, bite N. Good size, well formed powerfull head. Excellent proportionally built body. Perfect lines and angulation. Excellent poverfull movement. Excellent training. Good root hair, markings, temperament.", H. Assenmacher (Germany), ýêñïåðò FCI.


Participation at Shows
| | | | | |
| --- | --- | --- | --- | --- |
| Dog Show | Class | Judge | Place | Title |
| Interregional Rottweiler Show of Russia 1999 | junior | H. Freiburg ADRK | V1 | CW, BEST JUNIOR |
| Constellation 1999 | junior | I. Sonta | V3 |   |
| EURASIA 2000, CACIB-FCI | junior | K. Jarvinen | V1 | CW, BEST JUNIOR |
| MOOK "Olimp" 2000 | | | V3 | |
| BYELORUS CUP 2000, CACIB-FCI | intermedia | K. Molinari | V1 | CW, CAC, R.CACIB |
| Lider 2000 | open | H. Jurek | V3 |   |
| Mokf 2000 | open | | V1 | CW, CAC, BOB |
| GREAT VOLGA 2000, CACIB-FCI | intermedia | A. Burykin | V2 | R.CW,  R.CAC |
| Kolomna 2000 | intermedia | N. Karpysheva | V1 | CW, CAC, BOB, BIG-2 |
| Golden Eagle Cup 2000 | intermedia | E. Erusalimskaya | V1 | CW, CAC, BOS |
| Golden Ring of Russia 2000 | intermedia | T. Sipyagina | V3 |   |
| BALTIC WINNER 2000, CACIB-FCI | intermedia | K. Louhi | V1 | CW |
| Podmoskovye 2000 | intermedia | T. Egorova | V1 | CW, CAC, BOB |
| ODESSA 2000, CACIB-FCI | intermedia | R. Bambach | V3 |   |
| RUSSIA 2000, CACIB-FCI | intermedia | M. Polivanov | V4 |   |
| ZAPOROZHYE 2000, CACIB-FCI | intermedia | A. Ivanov | V2 | R.CW, R.CAC |
| SEASON IN NIZHNI 2000, CACIB-FCI | intermedia | A.Tomassen | V4 |   |
| CHERNOZEMYE 2000, CACIB-FCI | intermedia | V. Verbitski | V2 | R.CW, R.CAC |
| EUROPEAN DOG SHOW POZNAN 2000, CACIB-FCI | intermedia | J. Gajewski | V3 |   |
| Kynology Community 2001 | champion | E. Erusalimskaya | V1 | CW, CAC, BOS |
| Khimki 2001 | champion | A. Sherbakova | V2 | R.CW |
| SEASON IN NIZHNI 2001, CACIB-FCI | champion | H. Assenmacher | V2 | R.CACIB |
| BYELORUS CUP 2001, CACIB-FCI | champion | H. Assenmacher | V1 | CW, CAC, BOS, CACIB |
| Kynology Community 2001 monobreed | champion | A. Sherbakova | V2 | R.CW, CC |
| L.P.SABANEEVA 2002, CACIB-FCI | working | J. Beradze | V1 | CW, CAC, R.CACIB |
| ANKOR Elita 2002 | working | A. Nikitin | V1 | CW, CAC |
| MOOK Olimp 2002 | working | P. Chabo | V1 | CW, CAC |
| Kynology 2002 | champion | M. Polivanov | V1 | CW, CAC, BOS,BOB |
| ANKOR in memoryofMazover 2002 | working | A. Burykin | V2 | R.CW, R.CAC |
| Delta-Pal 2002 | working | | V1 | CW, CAC |
| Kynolog 2002, monobreed | working | A. Nikitin | V2 | R.CW, CC |
| ANKOR ELITA 2002, CACIB-FCI | working | N. Danilova | V1 | CW, CAC, BOS, CACIB, BOB |
| Ramenye Cup 2002 monobreed | working | A. Buriankova | V2 | R.CW |
| WORLD DOG SHOW AMSTERDAM 2002, CACIB-FCI | working | E. Bons-De-Wever | V4 |   |
| Palanga 2002, monobreed | working | Z. Brankovic | V3 |   |
| BALTIC WINNER 2002, CACIB-FCI | working | L. Mach | V2 | R.CW |
| Smolensk 2002 monobreed | working | T. Burdina | V1 | CW, CC |
| RUSSIA 2002, CACIB-FCI | working | P. Lavrinovitch | V1 | CW, CAC, R.CACIB |
| Khimki 2002 monobreed | working | O. Nagaeva | V2 | R.CW |
| MOOK Olimp 2002 monobreed | working | V. Kharitonov | V3 |   |
| ArtaWinter, HILL'S CUP 2002 | working | A.Thovar | V1 | CW, CAC |
| Chernozemye Stars, Kursk 2003, monobreed | working | N. Danilova | V1 | CW, CC |
| EURASIA 2003, CACIB-FCI | working | H. Assenmacher | V1 | CW, CAC, R.CACIB |
| Rottweiler of Nechernozemie 2003, monobreed | working | T. Burdina | V1 | CW, BOS, CCC |
| Delta-Pal 2003, interregion. | working | E. Peper | V1 | CW, R.CAC, CC ROLS |
| Lider 19.04.2003 | working | M. Polivanov | V1 | CW, CAC, RFOS Champion |
| LIDER 2003 | working | E. Kupljauskas | V1 | CW, CAC, CC ANKOR |
| Great Volga 2003, monobreed., Kazan | working | P. Lavrinovitch | V1 | CW, CCC |
| Pushkino 2003 | working | G. Grinko | V1 | CW, CAC, BOS, BOB, ROLS Champion |
| All-Russian Dog Show 25.05.2003 | working | V. Alexandrov | V1 | CW, CAC, BOS, BOB, RFSS Champion |
| ZAPADNYE VOROTA 2003, SMOLENSK CACIB-FCI | working | Ò. Burdina | V1 | CW, CAC, R.CACIB |
| 12th Nanional Rottweiler Show 2003 | working | F. L. Martins | V4 | |
| WHITE NIGHTS 2003, CACIB-FCI | working | R. Khomasuridse | V1 | CW, CAC, R.CACIB |
| RUSSIA 2003, CACIB-FCI | working | S. Urosevic | V1 | CW, CAC |
| 6th Rottweiler Show of Russia 2003 | working | U. Petermann | V2 | R.CW, CC |
| SEASON IN NIZHNI 2003, CACIB-FCI | working | E. Peper | V1 | CW, CAC, R.CACIB |
| SOZVEZDIE 2003, CACIB-FCI | working | J. Matyas | V1 | CW, CAC, BOS, CACIB |
| RFLS-1 2003, CACIB-FCI | working | H. Wieblishauser | V1 | CW, CAC, R.CACIB |
| RFLS-2 2003, CACIB-FCI | working | A. Thovar | V1 | CW, CAC |
| Regional monobreed 2003 | working | K. Barbosov | V3 | |
| VII Tver Cup 2004, monobreed | working | H. Weiler | V2 | ÑÑ |
| EURASIA 2004, CACIB-FCI | working | C. J. Monteiro de Barros | V2 | R.CAC |
| Rottweiler of Nechernozemie 2004, monobreed | working | V. Alexandrov | V1 | CW, BOS, CCC |
| MOSCOW 2004, CACIB-FCI | working | Î. Tscheritsa | V1 | CW, CAC |
| RUSSIA 2004, CACIB-FCI | working | H. Bierwolf | V1 | CW, CAC, BOS, CACIB |
| Rottweiler belokamenny 2004, monobreed. reg. | working | A. Spindler | V1 | CW |
| VII Rottweiler Clubmatch Russland (MRK) 2004 | working | E. Koennigsberger | V2 | R.CW, CC |
| VIII Rottweiler Clubmatch Ukraine 2004 | working | O. Grin | V1 | CW, CAC, Ukraine Champion |
| Rottweiler Clubmatch, Minsk 2004 | working | I. Pablaka | V1 | CW, CAC, Belorus Champion |