Buttons: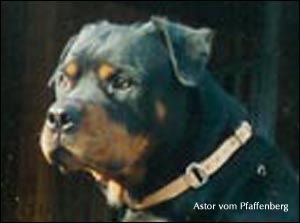 ASTOR
vom Pfaffenberg

xx.xx.xxx, ADRK 008205
WZ 5443-43, HD-frei, SCHH-1, BH



Titles and Awards: нет данных



Breeder: нет данных
Owner: нет данных




The Judge's View



Астор is сыном победителя ГДР 1985-1986 годов Wolf vom Winkel (HD-Frei) - лидера восточно-германских рингов ротвейлеров. К сожалению нам не удалось найти более подробную информацию об этом ротвейлере. По крайней мере, отсутствие дисплазии как у самого Астора, так и его отца Вольфа уже говорит о многом.

Pedigree
Underlined dognames are links to corresponding pages! Do not hesitate to click through.


WOLF VOM WINKEL
BOBBI VOM STEINBRUCH
JACK VOM URSUS-HOF
GITTA VOM KOHLERSGRUND
LONI VOM WINKEL
ILLO VON DREI LINDEN
ANETT VON HEGEBACH
EVI VON LUNGWITZTAL
FERRO VOM BUDDENTURM
BERNO VOM ALBTAL
HOLLI VOM LUNSBERG
FANTA VOM HEGEBACH
JACK VOM URSUS-HOF
FRIGGA VOM WINKEL
Genealogical lines: