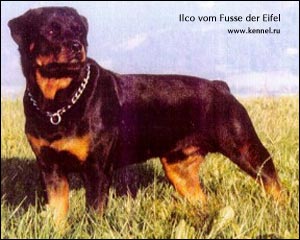 ILCO
vom Fusse der Eifel

05.10.1983, ADRK 062647
HD-frei, SCHH-3, FH, AD, IPO-3, gekört bis EzA



Titles and Awards: Interchampion, German Champion (VDH), Чемпион Bundessieger 1987, Club Champion 1987, Junior Club Champion 1985



Breeder: Johannes Schmitz
Owner: Johannes Schmitz

The Judge's View



"xxxxxxxxxxxxxxxxxxxxxxxxxxxxxxxx".", выдержки из отчета по керунгу



Pedigree
Underlined dognames are links to corresponding pages! Do not hesitate to click through.


Вернуться к публикации "РОТВЕЙЛЕРЫ - ЧЕМПИОНЫ BUNDESSIEGER"
Вернуться к публикации "РОТВЕЙЛЕРЫ - ЧЕМПИОНЫ КЛУБА"